Bass & Guitar Straps Size Guide
---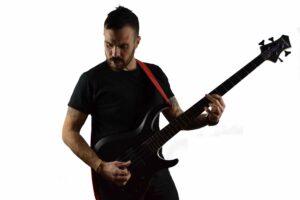 Our Model Neo is 175cm tall and wears a 120cm strap
---
Player's Height - Play Level - Strap Size
| Player Height | Play Level | Strap Size |
| --- | --- | --- |
| 160 | Short | 120cm |
| 160 | Long | 140cm |
| 170 | Short | 120cm |
| 170 | Long | 140cm |
| 180 | Short | 120cm |
| 180 | Long | 140cm |
Medium Single Pearl
"Water is a Human Right"
71,43 €
Dieses Sondermodel unseres Medium Single Pearl ist unseren Freunden und der Sache von Viva Con Agua gewidmet. Produziert aus gebrauchten Feuerwehrschläuchen und hergestellt in Werkstätten für Menschen mit Beeinträchtigungen beinhaltet jeder verkaufte Gurt eine Spende an Viva Con Agua.
Flame2Fame Gurte sind für Musiker:Innen, die nicht nur einen langlebigen, außergewöhnlichen Bass- oder Gitarrengurt suchen, sondern die auch ihr Verantwortungsbewußtsein gegenüber ihren Mitmenschen und der Umwelt zeigen möchten.
Viva con Agua unterstützt sauberes Trinkwasser weltweit! Mit positivem Aktivismus und jeder Menge Freude verschreiben Sie sich als gemeinnütziger Verein und internationales Netzwerk aus Menschen und Organisationen der Vision WASSER FÜR ALLE – ALLE FÜR WASSER.
Länge 120 bzw. 140 cm Breite 6 cm
Farbe: Weiß / Schwarz
Längenverstellbar
Gewicht: ca.96g
Feuerlöschschlauch nach DIN 14811
Material außen: Polyestergarn Material innen: synthetisches Gummi 100% vegan
Klimapositiv verpackt
Description
Medium Single Pearl "Water is a Human Right"
Flame2Fame Straps are handmade from up-cycled fire hose material.
The proportion between length and width is perfectly balanced for heavy instruments and fit for any playing position. At home, in the studio or on stage, Flame2Fame straps are durable, comfortable and always unique.
All Flame2Fame straps are manufactured in our workshop for physically challenged people. Profits are donated to our social partners and institutions.
Additional information
| | |
| --- | --- |
| Weight | 0,2 kg |
| Dimensions | 140 × 6 × 0,3 cm |
| Size | 120cm, 140cm |
| Color | Pearl |