Bass & Guitar Straps Size Guide
---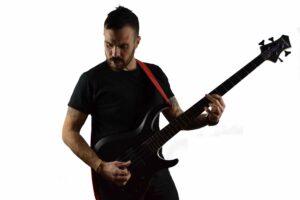 Our Model Neo is 175cm tall and wears a 120cm strap
---
Player's Height - Play Level - Strap Size
| Player Height | Play Level | Strap Size |
| --- | --- | --- |
| 160 | Short | 120cm |
| 160 | Long | 140cm |
| 170 | Short | 120cm |
| 170 | Long | 140cm |
| 180 | Short | 120cm |
| 180 | Long | 140cm |
Medium Single Pearl
"Water is a Human Right"
71,43 €
This special model of our Medium Single Pearl is dedicated to our friends and the cause of Viva Con Agua. Produced from used fire hoses and made in workshops for people with disabilities, every strap sold includes a donation to Viva Con Agua.
Flame2Fame straps are for musicians:inside who are not only looking for a durable, exceptional bass or guitar strap, but who also want to show their sense of responsibility towards their fellow human beings and the environment.
Viva con Agua supports clean drinking water worldwide! With positive activism and lots of joy, you, as a non-profit association and international network of people and organisations, dedicate yourselves to the vision WATER FOR ALL - ALL FOR WATER.
Length 120 or 140 cm Width 6 cm
Colour: White / Black
Adjustable length
Weight: approx.96g
Fire hose according to DIN 14811
Material outside: polyester yarn Material inside: synthetic rubber 100% vegan
Climate-positive packaging
Description
Medium Single Pearl "Water is a Human Right"
Flame2Fame Straps are handmade from up-cycled fire hose material.
The proportion between length and width is perfectly balanced for heavy instruments and fit for any playing position. At home, in the studio or on stage, Flame2Fame straps are durable, comfortable and always unique.
All Flame2Fame straps are manufactured in our workshop for physically challenged people. Profits are donated to our social partners and institutions.
Additional information
| | |
| --- | --- |
| Weight | 0,2 kg |
| Dimensions | 140 × 6 × 0.3 cm |
| Size | 120cm, 140cm |
| Colour | Pearl |