Bass & Guitar Straps Size Guide
---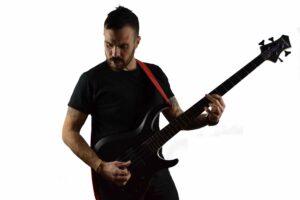 Our Model Neo is 175cm tall and wears a 120cm strap
---
Player's Height - Play Level - Strap Size
| Player Height | Play Level | Strap Size |
| --- | --- | --- |
| 160 | Short | 120cm |
| 160 | Long | 140cm |
| 170 | Short | 120cm |
| 170 | Long | 140cm |
| 180 | Short | 120cm |
| 180 | Long | 140cm |
New
New Neon Double Strap
83,30 €
The perfect strap for heavy or top heavy instruments!
Not only wide but also from a whole piece, stable, well padded, indestructible!
Bright neon, with a clean lets every single-coloured instrument shine and shine!
Finely adjustable with 3 fixation holes with a distance of 1.5 cm allowing each strap to be shortened by 10cm.
Our model Neo is 175cm tall and wears a 120cm strap in these pictures.
Description
New Neon Double Strap
Flame2Fame Straps are handmade from up-cycled fire hose material.
The proportion between length and width is perfectly balanced for heavy instruments and fit for any playing position. At home, in the studio or on stage, Flame2Fame straps are durable, comfortable and always unique.
All Flame2Fame straps are manufactured in our workshop for physically challenged people. All profits are donated to our social partners and institutions.
Additional information
| | |
| --- | --- |
| Weight | 0.2 kg |
| Dimensions | 140 × 6 × 0.3 cm |
| Size | 120cm, 140cm |
| Color | Neon |