Bass & Guitar Straps Size Guide
---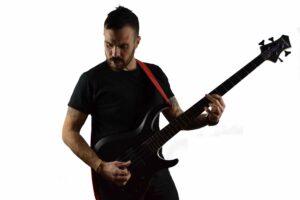 Our Model Neo is 175cm tall and wears a 120cm strap
---
Player's Height - Play Level - Strap Size
| Player Height | Play Level | Strap Size |
| --- | --- | --- |
| 160 | Short | 120cm |
| 160 | Long | 140cm |
| 170 | Short | 120cm |
| 170 | Long | 140cm |
| 180 | Short | 120cm |
| 180 | Long | 140cm |
Medium Double New Red
71,43 €
Manufacturer: SUS Sustainability Solutions GmbH
Length 120 cm / 140 cm / 160 cm / width 6 cm
Colour: Red / Grey
Adjustable length
Weight: approx. 290g / 334g / 369g
Fire hose according to DIN 14811
Material outside: polyester yarn
Material inside: synthetic rubber
100% vegan
Climate-positive packaging
Description
Bass & guitar straps made from used fire hoses, designed & developed by professionals for professionals, manufactured in workshops for people with disabilities. For musicians who not only want to do something good for the environment, but also want to express their social commitment.
Casual, yet elegant and revolutionary. Perfect for home, studio and stage. Extremely hard-wearing and robust. Unique pieces from life-saving firefighting operations Durable / moisture repellent / ergonomic.
Reinforced strap hole, can be used with and without security locks / strap can be worn on both sides Length adjustability: 3 reinforced holes at intervals of approx. 5 cm
Length 120 cm / 140cm / 160 cm / width 6 cm
Colour: Red / Grey
Weight: approx. 290g / 334g / 369g
Belt material: fire hose according to DIN 14811 / material outside: polyester yarn, round woven, warp 2-ply twisted / material inside: synthetic
Rubber 100% vegan / Climate positive packaging made from grass paper
A portion of every belt sold is donated to charitable initiatives.
Additional information
| | |
| --- | --- |
| Weight | N/A |
| Dimensions | 6 × 0.2 cm |
| Size | 120cm, 140cm, 160 cm |